Geography Now! is a new, vibrant and dynamic textbook for the Junior Cycle Geography specification.
Written by a highly experienced bestselling author team, Geography Now! aims to stimulate students' curiosity and create opportunities for them to analyse, synthesise and communicate their thoughts about their immediate environment and the wider world.
Student Textbook
Geography Now! reflects concepts and ideas in the Junior Cycle Geography specification that will help students to understand the environment and how to contribute to the economic, social and cultural life of their communities.
Comprehensively covers all Learning Outcomes and Key Skills
Each chapter begins with learning intentions and key terms
Accessible, student-friendly language, specific to Geography, encourages students' geo-literacy skills
Clear and concise definitions of key terms
Activities throughout all chapters aid and reinforce learning
Individual and group work activities promote active learning
Provides opportunities for discussion and encourages students to form opinions
Attractive design and layout with vibrant illustrations, photos, maps, satellite images, bar charts, graphs and pie charts
Includes relevant and up-to-date case studies that students can apply to their local area
Comprehensive study of the skills required to interpret OSi maps, aerial photos and satellite images
A strong emphasis on literacy and numeracy skills
Provides activities that promote research-based enquiry
Opportunities for students to present their research in a variety of ways
Mix of activities through each chapter to aid students' revision
End-of-chapter reflection on students' learning using key words
Linkages between topics and other subjects are highlighted where relevant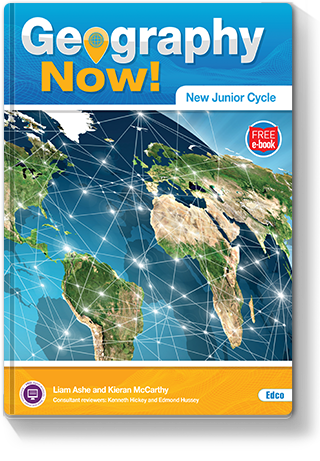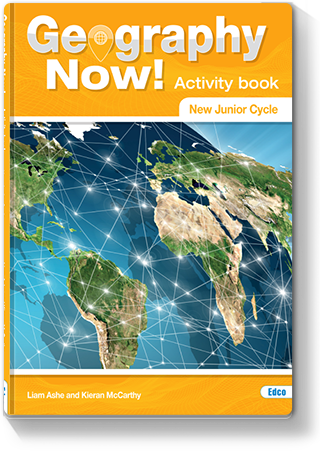 Student Activity Book
Provides additional material, questions and activities to complement the textbook
Enables students to check their understanding through additional activities
Provides a personal record of learning
Enables students to monitor their progress with self-assessment checklists
Provides peer-assessment guides and tasks for each strand
Student Graphic Organiser Book
Helps students to use graphic organiser diagrams as a learning tool
Introduction to each type of diagram explains usefulness
Eight sections with one sample diagram and eight blank diagrams (e.g. mind maps, fishbone diagrams)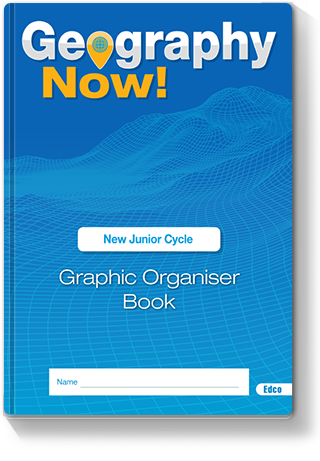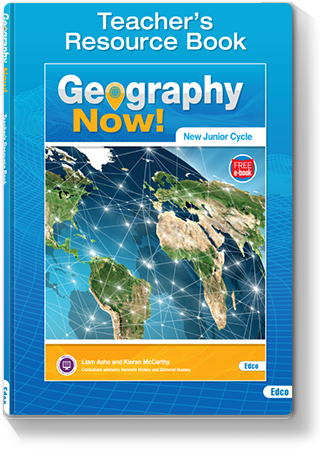 Teacher's Resource Book and Posters
The Geography Now! Teacher's Resource Book will assist in engaging with the new course, focusing on geo-literacy, interconnections and sustainability. It includes:
An introduction to key educational changes in the new Junior Cycle for Geography, including Statements of Learning and Key Skills, with an emphasis on literacy and numeracy
Suggested solutions to activity book and textbook questions
Peer-assessment photocopiables – one for each strand
Additional student activity suggestions for every chapter
Guidelines on a non-linear approach to the textbook
Outline of relevant digital resources for each section
A selection of full-colour classroom posters will be available to teachers who adopt Geography Now!
Digital Resources
Geography Now! digital resources support the Junior Cycle Specification's emphasis on the use of modern technology in the classroom and are designed to cater for different learning styles. Each chapter of the book is supported by digital resources that are integrated for easy reference and lesson planning.
Teachers can access the Geography Now! interactive e-books at www.edcolearning.ie/code, plus a bank of free digital resources, including:
Free student website with interactive activities and quizzes to encourage student participation and to aid revision
Editable PowerPoint summaries
Animations to bring key diagrams from the textbook to life
Stimulating videos covering a variety of different topics
Editable lesson plans to aid teacher planning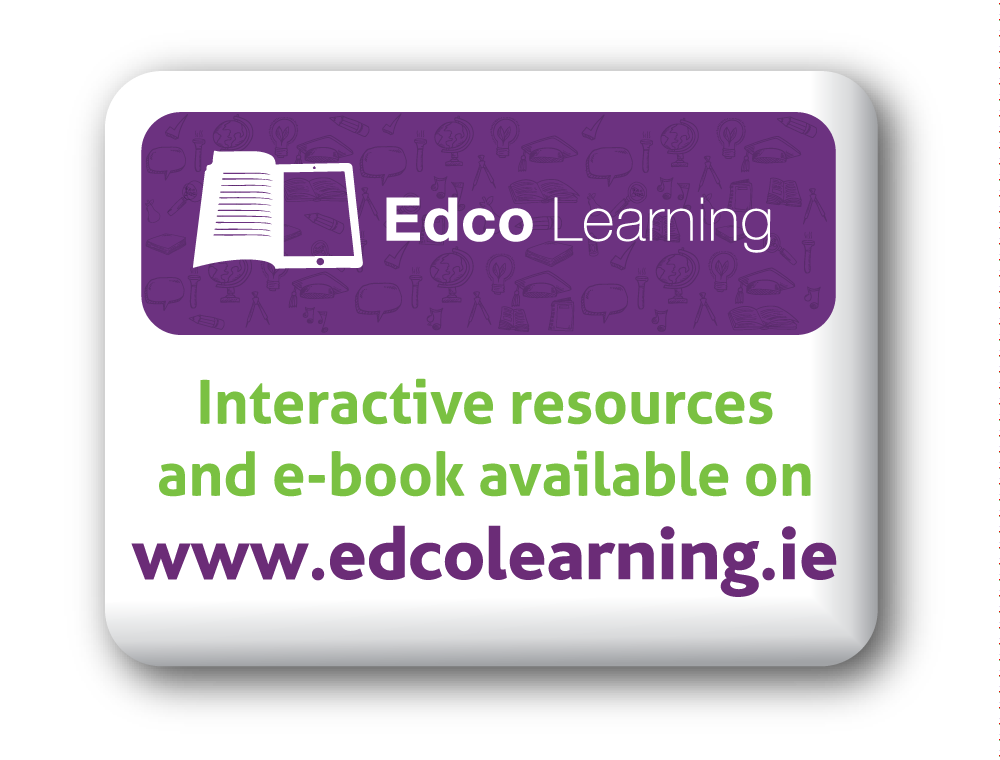 FREE e-book
Students and teachers can download their free Geography Now! e-book by visiting www.edcolearning.ie/code and entering the code from inside the front cover of the textbook.